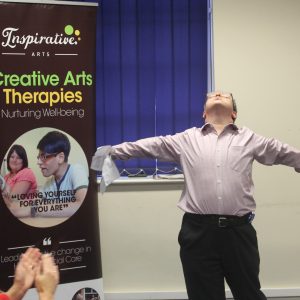 We work with a variety of different groups, so have included testimonials from specific services/groups:
Service user – adults with learning disabililties
Family and carers of people with learning disabilities
Conference events
Individuals
Inspirative Arts Team Development
Take a look at some of the stories of the individuals that come or have been to Inspirative Arts.
Individual's Stories
Testimonials from service users –  adults with learning disabilities.
"Art makes me unwind and create. Drama helps me express feelings and make friends"
"I liked it because everyone has their own opinion and your not judged"
"I like music and art, it makes you unwind doesn't it. It helps you release stress."
"Good games, different things every time"
"I am encouraged to put my own ideas into the workshop which helps me get involved with the other members in the group".
"It is so important to me because every time I go there is always something different happening. It offers me activities that I wouldn't normally get the chance to do."
"I really enjoyed [Inspirative Arts] coming the most, they made me feel like I was in a massive friendship circle"
Testimonials from family and carers of people with learning disabilities:
"Inspirative Arts is very person-centred in its approach. The sessions offer much more choice and freedom for their clients with what to do during the day. It's a project that provides something different."
Chris Beech, Advocate- Derbyshire Advocacy Service.
"very creative and everyone was open and took part well in all activities. Really enjoyed it"
Learning disabilitiy support worker.
"The group provides opportunities for people with learning disabilities to meet new people and  make new friends from the community in an inclusive and person centred way. This activity become an integral part of [service users] weekly routine; he has made many new friends and developed a host of new skills; it also contributes to [service user] Health and wellbeing; he feels valued, respected and included.  Inspirative Arts provide a vital, affordable service, in a safe, welcoming and accessible environment: without this service [service users} community presence will all but disappear. Inspirative Arts forms a big part of [service users] life."
Michael Halligan, Advocate – Derbyshire Advocacy service
"[She] gains a lot of fulfilment & enjoyment from the workshops & always returns home happy & discusses what she has achieved during the workshops. [She] does this without being prompted by staff,  which for us indicates that she really has participated in the workshops & found them meaningful.  As [she] doesn't always share her experiences un prompted & sometimes when she has attended other social activities…So we are able to confidently say that [she] does find the workshops extremely meaningful."
Rachael Pinks, Care Home Manager – Mencap
Testimonials from conference events:
"The various activities were well paced, and each created a foundation for the next. I wish there had been more time  to do more bonding before hand and art work"
"Very appropriate. It gave the opportunity to reflect and communicate on a personal level amongst a programme of lectures"
"I am left with a really sound feeling of wellbeing – as someone said " we came in as strangers and leave as friends" – and trusty friends at that"
"Very helpful. Having struggled to listen and take on board so much head stuff (underpinned by sometimes strong feelings) it was good to be able to relax in a safe place and share responses"
"Would like the opportunity to have these workshops more often, having them throughout the conference to be able to reflect and understand through others point of views what is being shared"
"Yes the workshops were appropriate because it let us to the very core of our being, and that in affirming our human divinity and appreciating the work of others"
Testimonials from individuals:
"Relaxing and enjoyable, very inclusive and non-threatening. Encouraged people to express and communicate"
"The various activities were well paced, and each created a foundation for the next"
Testimonials for Inspirative Arts Team Development

The team development session was excellent and fulfilled a lot of outcomes that the team members had not even considered before attending the workshop. We had previously tried to think of some team building activities ourselves and many of the staff could only come up with weekends away as an option for how this could work. Having the option of doing something locally that only took ½ a day meant that many more people were able to attend at little inconvenience which meant that more of the team could benefit from the development exercises.
The workshop we did was beneficial and really improved communication between team members, people who rarely spoke to one another got a chance to develop communication channels in ways which they would not in general working life. Where our staff work across different sites it's often hard for staff to communicate face to face and its usually by way of telephone or very formally during meetings.
The arts based activities took the emphasis off work and put it firmly on the team. People were able to open up more and many of the staff commented how it felt like the were able to take a step back from work issues and this meant they could engage with people differently which they could then take back with them when they were dealing with people in a work situation.
The needs of all the participants were not only met but exceeded, people were surprised at how much they felt they learnt and could then improve about themselves in a working situation. The material and activities were appropriate for everyone and although people were skeptical at first during the feedback people understood that everyone takes something very different and learns something very different from activities.
Tracey and Sarah were excellent facilitators, working well together and with our group. They joined in with us and also demonstrated activities really well so everyone was clear on what we were supposed to be doing.
Everyone participated in all the activities and never felt unsafe in the environment. Everyone enjoyed the session and got a lot out of it.
I think the workshop we have done will have a lot of benefits to communication in the workplace and also we will look at doing some more workshops in the future to deal with conflict resolution, communication, collaboration and trust as this one was received so well.
June 2011 St Michaels Support and Care Group