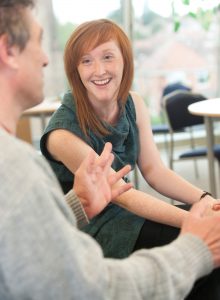 Clinical supervision is an ethical requirement for therapists and counsellors to ensure good practice.
Supervision is for professional and personal development and to care for the wellbeing and protection of both the practitioner and client.
At Inspirative Arts we have qualified clinical supervisors who work from a person-centred approach using the arts, when appropriate, as a form of expression and exploration.
We are able to work alongside trainee counsellors/therapists, qualified counsellors/therapists, art psychotherapists and a range of other professionals in healthcare and education who may wish to engage in supervision as part of their practice.  Our supervisors adhere to the Health Care Professions Council (HCPC) and British Association of Dramatherapist (BADth) code of ethics. We are familiar with other codes of practice such as BACP and UKCP. Our supervisors have post-graduate diplomas in clinical supervision and are approved and recognised by the BADth register of supervisors.
Supervision sessions can be conducted in person or remotely via telephone or video call.  We are based in Derby.  At Inspirative Arts we believe in building positive, strong supervisory relationships and feel they are integral to the process.  

Please feel free to get in touch to enquire further.