We work with Derby City Council's 'Priority Families' programme as an approved provider, to help and support families who need it the most. Priority families have complex needs.
If you are working with a family that meet the Priority Families criteria, you can access additional support and resources to help your family achieve positive change.
This support provided by the Priority Families team, through the Integrated Early Help Commissioning Framework and will help support:
Problems with crime and anti-social behaviour
Children who have not been attending school regularly
Children who need help
Adults out of work or at risk of financial exclusion or young people at risk of worklessness
Families affected by domestic violence and abuse
Parents and children with a range of health problems
For more information on the priority families programme visit the derby city council website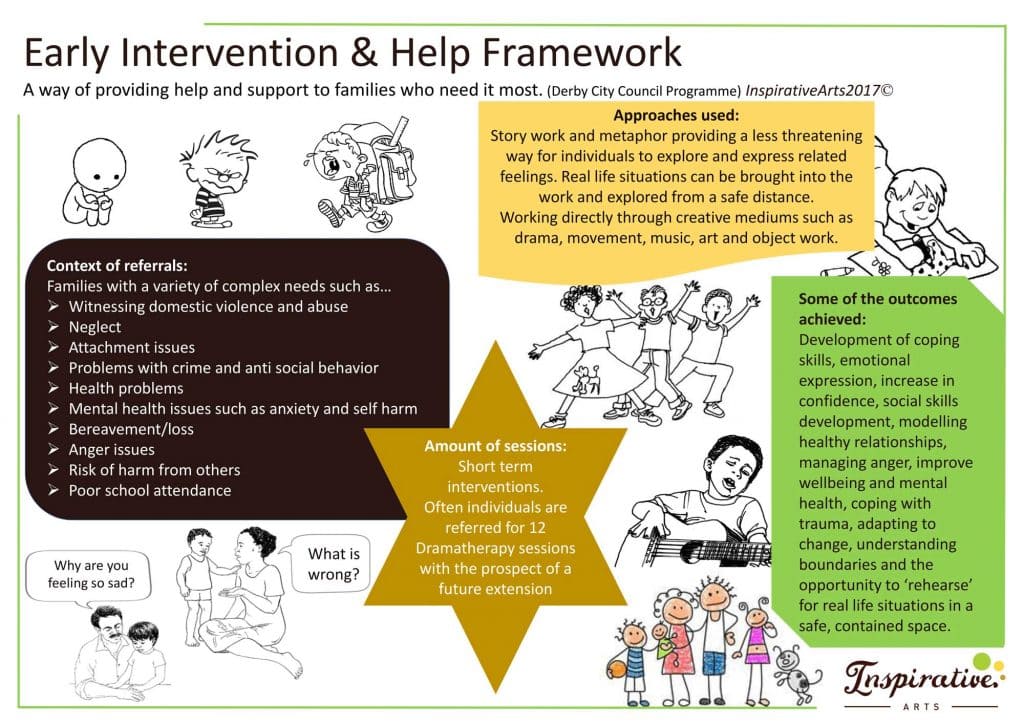 How we meet the needs of this programme
We take a holistic approach to work with all members of the family. Priority Family referrals usually access our level 5 service, which is short term arts therapies in a crisis. If you are referred to Inspirative Arts via Priority Families, you may work with a Health Care Professionals Council (HCPC) qualified art, drama, music or dance and movement psychotherapist. You will receive 12 sessions on a one hour weekly basis at a regular time slot and then these may be extended further, or you may access another part of our service.
In sessions, you may use story work and metaphor, which provides a less threatening way to explore and express related feelings to trauma (Strevett-Smith, 2010). For example, musically we may think of the family as an orchestra or a band and how you play together (Yeow, 2018). This provides an opportunity to rehearse for real life situations. Through our creative psychotherapy sessions, we have helped families manage anger, cope with trauma, understand boundaries and develop confidence in their social skills.
Our journey so far with Priority Families
Since 2015, we have successfully delivered individual and family-based therapy to more than 70 children and young people through the Derby City Council Early Intervention and Help framework. We are committed to partnership working and work with each individual and their family to tailor our services to absolutely meet the presenting needs. We work closely with other professionals locally, including participating in Team Around the Family meetings as required. We also support schools and families in securing additional budgets (Education Health Budgets, PIPs, grants etc) from the local authority, healthcare partners, and charitable organisations as appropriate, enabling people to access our work in a healthy and sustainable way.
If you would like more information or to make a referral please contact us.
References
Strevett-Smith, A. (2010) 'Dramatherapy in the Context of Systemic Family Therapy: Towards Systemic Dramatherapy', Dramatherapy, 32(1), pp. 8–13.
Yeow, J. L. H. (2018) 'Musical Moments in the Creative Practice of Family Therapy', Australian & New Zealand Journal of Family Therapy, 39(4), pp. 528–532. doi: 10.1002/anzf.1341.